Imagine: North
September 30, 2016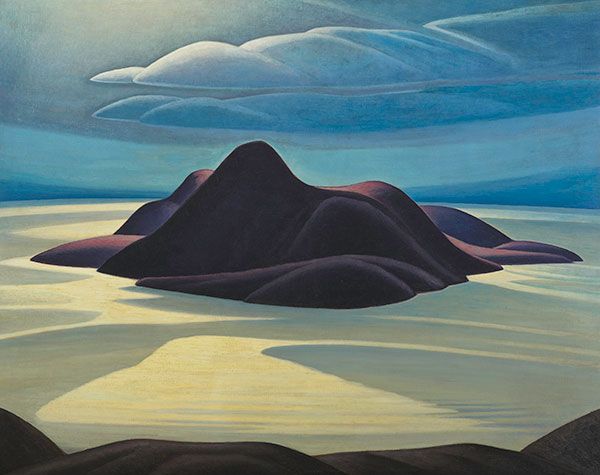 Lawren Harris – Pic Island 1924
Earlier in the month I had the pleasure of viewing the AGO's Idea of North featuring the works of Group of Seven artist Lawren Harris (curated by Steve Martin….yeah that Steve Martin). Harris recognised that we tend to turn our backs to the reality of this country's vast areas north of our urban centres.
When I was a student at John Abbott many years ago I stumbled upon a Can-Lit course which featured works by many notable Canadian authors, including a much younger Margaret Atwood. One of the required readings was her book titled "Survival" which dealt with the notions of 'survival' and 'victims' found often in Canadian literature – leading me to better understand our embedded acceptance of this 'feared Canadian reality' found outside our comfort zone (in our case this zone is within about a hundred miles of the unwalled U.S. border, most notably the region including our very own GTA).
I carried those thoughts with me through my life and often (daily?) encountered this misunderstood truth about our vast, uninhabited country. Once, when I explained to a Toronto woman who was talking about how horribly cold Winnipeg was, that that city was actually warmer than most of Canada, her response was not unlike most Canadians…."Yeah, but nobody wants to live in those parts of Canada".  And in one statement she effectively wrote off most of the country as uninhabitable.
Another Canuck, after driving from Ottawa to Banff commented "I like Canada but hate that drive of never-ending forest, rocks, lakes and prairie." Once again most of the country was dismissed as very unappealing (they didn't even consider the true north country – the Canada that lies north and out of sight of those of us traveling down the Trans-Canada Highway).
Or the comment of a GTA refugee who replied to my statement that "Most Canadians (in the Toronto area) think that Barrie is 'up north'. Their comment was "Well you think Grand Forks is 'down south'. The point missed was that most of Canada is north…..even north of 60. Look up. Waaay up.
Sigh. We just don't get it.
In fact, there is a divide. Something is preventing us from recognising exactly who, what and where we are. Think north. Bridge the divide. Face the wilderness of your mind. Don't be afraid.
This song, interpreted by some to be about Northern Ireland/Ireland and Londonderry/Derry in particular, is quite universal in scope. In this country known as Canada, north merely is symbolic of the unknown and the fear of the unknown that afflicts all of us. Cross that river.
U2 – North And South Of The River – Omagh Tribute
post by mandmnd